OVERSEAS CUSTOMERS
Entrance Ticket:
Thank you for your interest in participating in the INAZUMA online festival.
In order for you to enter this online event on the 18th & 19th July 2020 starting at 11:00am and finishing 17:00pm (Japan time), you will need to purchase an entrance ticket following the link below:

https://inazuma-onlinefes.myshopify.com/products/ticket
Shipping information:
When you purchase any product(s) from this online event, all purchases will be shipped to the Inazuma Festival Head Office in Tokyo, Japan (Please note that you are paying a shipping fee of 1500 JPY from each brand to the Inazuma Festival office).
We will handle and package the item carefully (consolidate your purchases if there are more than 1 item) and we will inform you of the shipping fee via email. You will be able to pay the shipping fee via Paypal or Square. As soon as we confirm the payment, we will ship it via Fedex and provide a tracking number to you. Please note that you will be responsible for any customs, duties, and taxes incurred.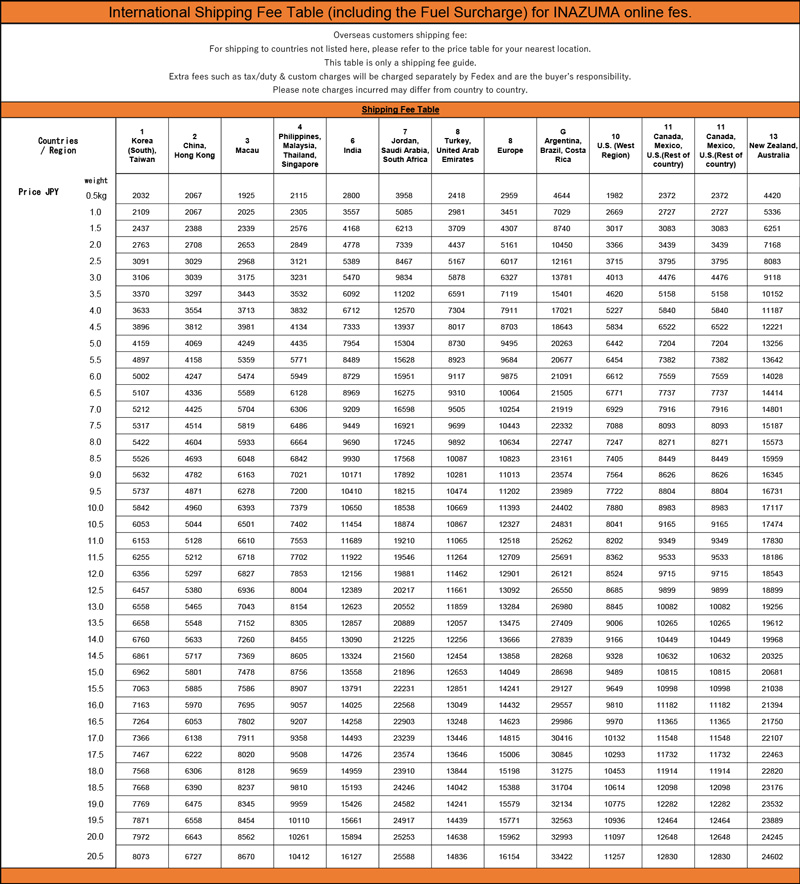 >>>International Shipping Fee Table (including the Fuel Surcharge) for INAZUMA online fes.
Terms and conditions:
Although this is an online event, it is just like a normal off line Inazuma festival event.
All the items they offer are, off season, one-off samples or could be slightly damaged.
Please also consult the brands when you are purchasing. Some of them are likely to have sales assistants to explain any issues with the products via Instagram live or youtube live. The brands that participate in this event are not responsible for any returns/refunds. Please examine the product images and descriptions carefully.